The 4th edition of the IEEE World Forum on Internet of Things is taking place in Singapore from the 5th to the 8th of February, 2018. According to the organization, the theme of the Conference is "Smart Cities and Nations". With this, the event aims to recognize the advancements Singapore has made with regards to the deployment of "smart" technologies, policies, and operating principles.
This year's edition is bringing together the latest and greatest from various branches of academia and research, providing a specific focus on contributions to "nurture, cultivate, and accelerate the adoption of IoT technologies and applications for the benefit of society".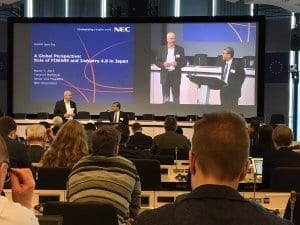 The content presented at the Conference falls under five IoT Vertical Areas; Smart Cities and Nations Public Safety, Emergency Response, and Humanitarian Technologies Logistics Industrial IoT IoT for Agriculture, as well as an additional five IoT Topical Areas: Security and Privacy Regimes Policy and Regulation Best Practices, Standards and Open Source Block Chains and Applications Automation and Artificial Intelligence.
We're pleased to announce that Dr. Yasunori Mochizuki, Senior Vice President at NEC Corporation, a FIWARE Foundation Platinum Member, has been presenting 'FIWARE: the open platform of choice for Truly Smart Cities' within the core Vertical Track on 'Smart Cities and Nations' on Tuesday, February 6th. His presentation elaborated "on the critical importance of Context Information Modelling as the concrete enabler for Smart Cities and will present worldwide business experiences in deploying and exploiting the FIWARE platform".