We have been part of TechXLR8 and the London Tech Week. It has been great to receive such great interest at the IoT World Europe event, where we were present as a Platinum sponsor. Under the motto 'Connect everything, smart and easy', we have been presenting our part in solving one of the main challenges for the advancement of the IoT: to accomplish the seamless interoperability of "things" —where everything just connect… and start working together.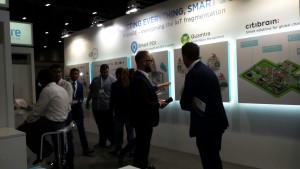 The Internet of Things represent a revolution towards economic growth and well-being. A positive disruption that needs to overcome the fragmentation of this nascent technological market, by achieving a standardised, open and secure framework that all IoT products and services can stand upon, functioning smoothly in everyday, real-life scenarios; sharing information and carrying on coordinated, intelligent operations across all of them.
The interest raised by FIWARE IoT vision, among IoT World Europe atendees would not have been possible without the eye-catching, powered by FIWARE smart solutions, running in real-time and presented by HOP Ubiquitous, Wellness Telecom, e3tcity and Ubiwhere.
– Citibrain is a Portuguese consortium, specialised in creating smart solutions for global challenges. It was brought to London by Ubiwhere, part of it and the company that has been helping the city of Porto to pioneer the adoption of our open standards. FIWARE is used to access contextual environmental data, from fixed and mobile units located across Porto, creating a large, city-scale mobile scanner.
Citibrain is focused on growth initiatives around Future Internet and Smart Cities, keeping the global environment and urban lifestyle in mind, presenting solutions of smart parking, waste management, air quality measurement and traffic control and planning.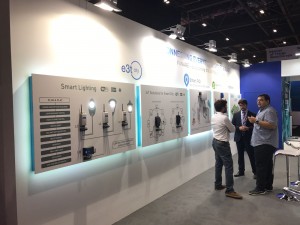 – Smart POIs. HOP Ubiquitous has developed a new way of communicating: through Smart Points of Interaction (POIs), to engage users and increase urban sustainability. The aim is to provide an interaction point with citizens and visitor,s to obtain information about relevant places in conjunction with environmental monitoring, supporting tourism and gathering Open Data in conjunction with open FIWARE interfaces. The Smart POIs will be accessible when using public transport or visiting relevant points of interest. HOP Ubiquitous is developing a pilot deployment in Mexico City, and has already used these Smart Spots as a project of citizen co-creation, generating a platform which allows for projects validation and opening a suggestion box in Aarhus, Denmark.
– Quamtra is a smart solution for waste management, based on real-time data. Developed by Wellness Smart Cities & Solutions, it comprises the installation of its own FIWARE-ready sensors to monitor continuously the waste level within the containers in a city, easing the optimization of the routes for the waste collection, lowering the costs associated to this process. Quamtra is present already in 39 municipalities in Spain.
Specialised in net developments, systems engineering and cloud capabilities, Wellness Telecom is deploying public lightning, energy saving, intelligent parking and global city dashboard solutions, with a worldwide reach and a special focus in Spain and Mexico.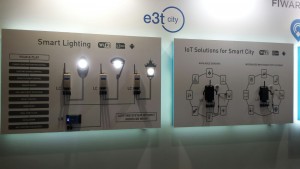 – e3tcity platform uses point-to-point wireless/M2M links to connect devices to a cloud server, to their user applications or to different services and solutions developed by third parties. The advantage of using point-to-point technology is that the connection does not need to be planned, nor require the creation of nodes, mesh networks or gateways. Their devices could be adapted to different fields such as the lighting sector, air conditioning, irrigation or other sensor networks.
e3tcity was present with us, in our last three events –including the Hannover Messe and the 2nd FIWARE Summit in Utrecht– and the showcase of their public lights management system was a main attraction for our stand in London.
Photo by Sandro Katalina on Unsplash