Related to its lead theme, 'Integrated Industry – Creating Value', Hannover Messe 2017 presents its program and special area around Industry 4.0, pointing out how the digital industry "requires answers and solutions for different topics: Man and labour, business – and strategy examples, how to handle the data-overflow, cyber-security, standards and interoperability, medium sized businesses and users, best practice cases." The 'Forum Industry 4.0 meets the Industrial Internet' is built upon these topics and how they affect users, industry players and politics.
FIWARE will be present at Hall 8, Stand C31. The area will be displaying international expertise around Industry 4.0 technologies and services. The 'Forum Industrie 4.0 meets the Industrial Internet' attracted more than 8,200 visitors and was one of the most successful events at Hannover Messe last year.
Organized by Deutsche Messe in partnership with Germany's Industrie 4.0 Platform, the Industrial Internet Consortium and the German industry associations VDMA and ZVEI, this Forum is staged under the auspices of Germany's Federal Ministries for Economic Affairs and Energy and Education and Research.
Big companies like Siemens, ABB, Intel, Kaspersky and Microsoft showcased the latest digital technologies and services. Being part of this Industrial IT display means a chance to showcase the latest technologies available and the most innovative solutions, within a premium exhibition area. We will be bringing four powered by FIWARE companies to the event: Situm, eProsima, Babbler and Wellness.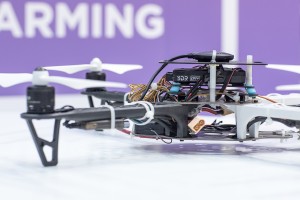 The poducts displayed will be ranging from the next-generation smart for supply chain monitoring, developed by Babbler, to the lightning (WeLight) and waste (Quamtra) monitoring systems that Wellness will be presenting. Situm will be showcasing their zero-infraestructure, fast configuration smartphone indoor positioning service. And will be demoing it also in collaboration with eProsima robots.
Adding to the more commercial and networking oriented activity, daily panel discussions provide an ideal opportunity to compare notes on IoT standards, data management, cyber security and interoperability, establishing a dialogue between business, science and government.
FIWARE Foundation CEO, Ulrich Ahle, will be speaking on Thursday 27th, starting at 16:30h (Hall 8, Stand D19). His lecture, 'Industry 4.0 – Digital Transformation: challenges for the maunfacturing industry' will focus on the main questions that FIWARE is addressing around Digital Factory, Industrial Automation and Industry 4.0.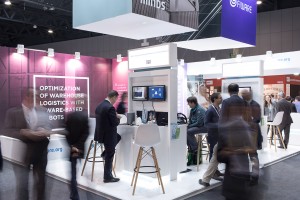 Digital transformation is leading to significant changes in many areas of German, European and worldwide industries. Evolutionary changes are topped with fundamental, disruptive transformations in business models. Products, processes and services are increasingly digitized and integrated into smart services, available on-demand for the individual customer. These new services and business models are based on IoT platforms.
Ahle will be presenting a paper, describing what an industrial company needs to be able to, first, realize the changes mentioned above, and consecuently adapt and profit from them. Not only in theory, but showing and illustrating by examples which industry elements can already be implemented today and which platform approaches are available.
Hannover Messe is the biggest industrial fair in the world, a must for decision-makers both on public and private level. With more than 6500 international exhibitors, 400 industrial applications, 1700 lectures & panels and 2500 journalists from all over the world, and around 250K visitors, the exponential reach is that about 5.6M business contacts will be made in 5 days. Come visit FIWARE at the Hannover Messe 2017, from April 24th to 28th.