According to EU's Digital Single Market (DSM) strategy, the exploitation of the digital space will create unique opportunities for value creation with both economic and societal benefits. In particular, it will bring new ways to expand markets, enable the creation of innovative services at better prices, new sources of employment and also better policy making. Not surprisingly, policy in support of digitisation is happening in an increasing number of sectors from the European, national and local level. As a result of the progress made in the last twenty years, businesses and citizens are increasingly able to exchange data with each other and with public administrations digitally, interact with different types of stakeholders using digital means and substitute physical presence by digital interactions when performing day-to-day transactions. However, as shown by the Digital Economy and Society Index, Europe is only half-way there i.e. in 2017 the EU28 scores 50% across the main dimensions of a digital society.
As digital becomes the 'new normal', platforming gains increasing importance both in the private and public sectors. Every day 'exchange-based' Digital Platforms bring together millions of buyers and sellers. Furthermore, 'content-based' Digital Platforms, where content can be user-generated, are becoming mainstream. The reuse of common elements across multiple digital services is an essential concept linked to every Digital Platform. Consequently, the Connecting Europe Facility (CEF) and FIWARE have joined forces in the area of Digital Lego®-like blocks. These are atomic and modular software components, which can be easily rearranged and combined to meet any new needs given their versatile interface. Whereas FIWARE calls them Generic Enablers, CEF calls them building blocks. CEF's five building blocks (eID, eSignature and eDelivery, eInvoicing and eTranslation) provide reusable solutions and services, in addition to funding in the form of grants, for their implementation in any sector. Part of the funding under CEF is made available in the form of grants awarded following competitive calls for proposals. This process is managed by the Innovation and Networks Executive Agency (INEA). For example, in 2017 CEF will award up to €77 million in grants. Both businesses and public administration can apply. Detailed information on how to apply is explained on the INEA website. Furthermore, the European Commission offers a number of services to the users of the building blocks at no cost. More information about these services can be consulted on the CEF Digital website. It's also important to highlight that the building blocks are based on market driven standards and technical specifications. The open approach enables third-party participation.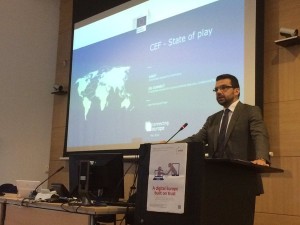 The first collaboration between CEF and FIWARE was the inclusion of the CEF eDelivery building block in FIWARE's Catalogue of generic enablers. The eDelivery Building Block enables organisations to exchange electronic data and documents with each other in a secure, reliable and interoperable way. CEF eDelivery is based on the AS4 messaging protocol (based on web-services) developed by the OASIS standards development organisation. To ease its adoption in Europe, eDelivery uses the AS4 implementation guidelines defined by the Member States in the e-SENS Large Scale Pilot. Organisations must install an Access Point, or use a Service Provider, to exchange information with the AS4 messaging protocol. Thanks to the collaboration with FIWARE it's possible to quickly install an Access Point on FIWARE's Lab for demonstration purposes. Several European projects, in different business domains, are already today or will soon be using AS4 Access Points. These projects involve businesses, public administrations, academia, EU Agencies, EU Institutions, etc. The next funding opportunity for deploying eDelivery or upgrading a solution to comply with its standards is schedule on 5th May 2017. FIWARE and CEF will continue to launch more joint initiatives, to keep up to date with the latest developments, subscribe to the CEF newsletter.
– Joao Rodrigues Frade. Lead Architect of the CEF Architecture Office.
Head of Sector (Digital) Building Blocks at European Commission.