FundingBox, the largest "go to" platform to win public funding has decided to join the FIWARE Foundation as one of its Gold members.
Fundingbox believes the FIWARE initiative has been the best initiative launched by the EC since Erasmus. FIWARE has contributed to start creating a truly European tech startups ecosystem. FundigBox was partner in two of the FIWARE Accelerators, INCENSe and IMPACT, that contributed to the transfer of new technology into the market thus setting up a community of hundreds of successful companies. The cascade funding approach of the FI-PPP in its phase 3, distributing funding among companies through a group of accelerators for them to select and support companies in their technology adoption, has made this possible. FundingBox have become the experts on identifying, obtaining and distributing cascade funding through www.fundingbox.com
Thanks to the FIWARE Accelerator Program we have supported a total of more than 100 startups with equity free funding and mentoring. The top 10 companies have then raised closed to 30M€ of private investments.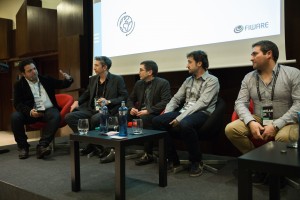 We have been selected by the EC as the reference FIWARE Accelerator and we intend to keep doing this with our new Program, Impact Growth, where we will support a group of 28 companies with 125 k euros to keep investing in FIWARE technology.
All this experience and the community set up around the FIWARE Technology is now embodied in the FIWARE Foundation, and FundingBox wants to contribute in making this even a bigger success.
Together with the FIWARE Foundation, at FundingBox we intend to replicate this approach in other initiatives related to the Digital Single Market, in which we are having and intensive role. This is the case of the Digital Innovation Hubs (DIHs), which aim at helping SMEs to master their digital transformation. Through the four DIHs is which are present and our access to its network, we believe that the FIWARE experience can be an important added value, acting as a showcase that will help traditional companies accelerate their transformation, offering them vision, technology and funding.
Photo by Denys Nevozhai on Unsplash