The last time we spoke about FIWARE Mundus, we anticipated that FIWARE would soon reach the other side of the Atlantic. A FIWARE Mundus delegation would attend a meeting in Toronto, Canada on 23 March. Several representatives from Canadian public authorities and research initiatives were looking at potentially using FIWARE together with local Canadian platform. Well, during that week, a FIWARE Mundus delegation, with the participation of Peter Fatelnig from the European Commission, attended several meetings in Toronto and participated in the US Ignite Applications Summit in Washington D.C. This summit, called "Beyond Today's Internet: Experiencing a Smart Future", gathered more than 400 participants.
The main outcome, according to Jacques Magen (InterInnov), who attended the event as part of the FIWARE Mundus delegation, is that FIWARE was proposed to be set up on top of existing platforms both in Canada and in the US.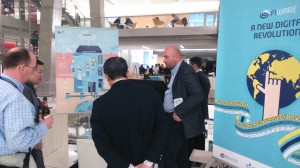 The objective in both cases would be to provide the FIWARE features to application developers in North America, thus promoting the use of open platforms such as FIWARE. Furthermore, teams were set up between Europe and USA with support from the European Commission and the National Science Foundation to work on common challenges, potentially leading to common research and commercial purposes.
The discussions included, among other things, the possibility to show Smart Cities applications based on FIWARE and Smart Cities platforms in different events both in Washington D.C. and Toronto (in June and October respectively). According to the FIWARE Mundus delegation, there may also be opportunities with the World Bank, whose representatives were interested in evaluating the offering of FIWARE to countries looking at developing Smart Cities; e.g. India, Central and South-America (e.g. Colombia), and others. More contacts will be made in the next weeks.
These are the first steps that, little by little, are building this international network that will make FIWARE reach the whole world. Some of those FIWARE regions will work hand in hand with the "innovation hubs" recently selected by FIWARE. All together they will form the FIWARE ecosystem under the FIWARE Mundus umbrella.