This post has been written by Davide Dalle Carbonare, responsible for FIWARE Academy. We would like to thank him for his collaboration and willingness.
The FIWARE Academy is the training platform of the FIWARE technology. All the people interested in adopting the FIWARE technology can find, in this platform, useful information on how to use, integrate and exploit the capabilities of the FIWARE offering. But not only that, some use case projects (part of the second phase of the FI-PPP Programme) are publishing their training material in the FIWARE Academy, which absolutely confirms the central positioning of the platform in the dissemination and educational activities.
The FIWARE Academy aims to focus on practical lessons that are produced by developers themselves, that's why you will find different aspects of FIWARE use from those exposed in documentation. With this approach, a more effective communication among teachers and students can be achieved.
The training content in the FIWARE Academy is mostly composed by videos recorded during live presentations (webinars) and lessons composed by slides with a synchronized voice-over that provides the necessary explanation.
With this kind of paradigm of content delivery, the end user can get access to the training material when it is more convenient and also play and replay as many times as desired. Basically, there is no more risk to miss a lesson because it is available only at a predefined timeslot that does not match the sudoku of your agenda.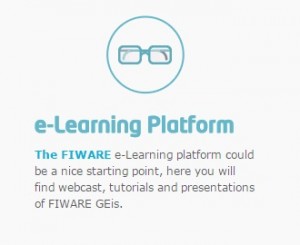 The number of courses offered in the FIWARE Academy is always growing. New courses are created and others are frequently updated. A process of continuous review has been established in order to guarantee an adequate level of quality and a homogeneous presentation of the available training material published in the platform.
From the more technical point of view, FIWARE Academy is based on Moodle the well-known open source solution for eLearning. I think that this choice was appropriate to manage both the internal and external needs; in other words, to create the courses, manage the editor permissions and, in the end, properly publish the content for the end users.
Just a few words on a couple of planned improvements of the FIWARE Academy. A new version of the course player is going to be released. It is mostly based on HTML and CSS, lighter than the previous one (completely based on Flash) and easier to customize in terms of layout and look & feel. In addition, for the new user, a web site that supports the creation of training material will be available by 1Q 2015.This builder produces the courses based on the new user; the editor uploads the slides and the text to explain each one of them; the builder creates the final package.
I am looking forward to see you all browsing the FIWARE Academy and I wish you a merry Xmas. For any comment or suggestion you might want to share, please, drop a message to the FIWARE feedback channel!
Davide Dalle Carbonare
#arroba#davdalle