On Tuesday, March 12th, we were at CeBIT, the world's largest and most international IT expo. Together with FI-Content we held a full day conference and exhibition around the theme Future Internet PPP: Open Platforms for Entrepreneurs in Europe.
FI-WARE and FI-Content are both part of the FI-PPP programme and address complementary goals. FI-WARE concentrates on providing generic software modules/services, called Generic Enablers, that ease the development and deployment of applications in multiple domains. FI-Content layers on top of these generic modules with platforms for media entrepreneurs.
In CeBIT's area dedicated to Research and Innovation, we had the following Future Talk conferences:
The FI-WARE, FI-Content, and EU Future Internet Program presented by Pieter van der Linden (Technicolor) and Juanjo Hierro (Telefonica R&D)
Connecting to the Internet of Things (IoT), processing large data real-time and performing bigdata analysis with FI-WARE (I): quick tour and example applications for a Smart City. Presented by Carlos Ralli (Telefonica R&D)
Cloud Hosting in FI-WARE: OpsWorks-like and advanced authentication and access control services on top of OpenStack. Presented by Fernando Lopez (Telefonica R&D)
FI-WARE Business Framework. Presented by Thorsten Sandfuchs (SAP)
Testimonies of startups using FI-WARE: FoodLoop (presented by its CEO Christoph Müller-Dechent) and Magicbox (presented by its CEO Javier Herrero)
Building Streaming Media Applications with FI-WARE (presented by Ivan Gracia from Naevatec)
Creating Interactive 3D Applications and Shared Virtual Worlds in HTML-5 with FI-WARE and The Future of Gaming – Pervasive Gaming or Gaming Anywhere (presented by Philipp Slusallek from DFKI)
Building Games and Interactive 3D Apps with the FIcontent Platform (presented by Marcel Lancelle from ETH Zurich)
Get Involved: FIcontent Open Call and App Competitions (presented by Annette Wilson from FOKUS and Carmen Mac Williams from Grassroots)
Building Smart City Services with the FIcontent Platform (presented by Robert Seeliger from FOKUS)
Hybrid Future – why broadcast and IPcoexistence is key (presented by George Wright from BBC)
Building applications for content discovery with the FIcontent Platform (Thierry Filoche from TRDF)
How can YOU benefit from the EU Future Internet program? (panel with Pieter van der Linden, Carmen Mac Williams, Philipp Slusallek and Juanjo Hierro)
Thanks to all who came to see our talks and demos! We hope to see you again soon 🙂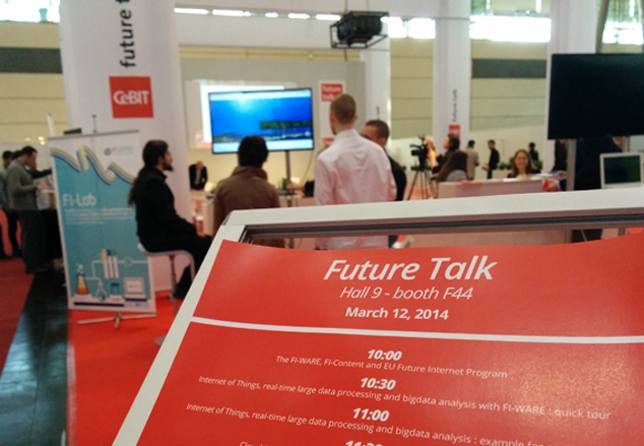 ► See all the photos of our day in CeBIT in our CeBIT Album on Flickr.