FIWARE Foundation, the non-profit organisation that encourages the adoption of open standards using Open Source technologies for the development of smart solutions on a global basis proudly published the White paper "City data spaces: A guide to building and operationalising data services" created in collaboration with Smart Cities World, an international media platform providing latest news, analysis and expert opinion for urban leaders, and with contributions of eight leading subject-specific organisations. These are key players on the technological and implementation market such as Amazon Web Services (AWS), Data Competence Center for Cities and Regions (DKSR); Latitudo 40; Red Hat; Mobility Data Space; Engineering Ingegneria Informatica; Deloitte and, Urban Software Institute. The white paper was firstly presented during the Grand Opening ceremony of the FIWARE Global Summit in Vienna (12-13 June, 2023), FIWARE's yearly lighthouse congress, and show-cased in detail in the session "Make Data Spaces come true!" on the main stage, with the participation of contributed organisations.
The first of its kind collaborative white paper on Data Spaces provides a deep expert view on how data spaces are transforming data sharing, and establishing new frameworks to create data services to improve urban services and liveability. Data spaces are paving the road for a new way of data sharing between different organisations and individuals. They are replacing one-to-one connections enabling the data driven collaboration between different partners and flexibility with new partners alike which were not known before. FIWARE Foundation is instrumental in establishing data spaces and their roll-outs in Europe and beyond. The set of building blocks for the creation of interoperable data spaces in different application domains, to which FIWARE is contributing its technology and know-how, is providing exactly the functionality to enable interoperability by defined interfaces and data models, thus contributing to a much higher standardisation.
"Our future digital life will gravitate more and more around data – data describing what is happening around us, when, where and why. The world will be more and more connected in the future with the consequence that everything that can be connected will be connected and automated. This requires that Data Spaces in different domains will be interoperable. FIWARE together with its Global Community and partners are key experts on the Data Spaces market who are supporting scalable and interoperable solutions and data sovereignty. That's why we are very proud to bring this unique and actually first of its kind White paper on Data Spaces to the market to show best practices, use cases and expert opinions", explained Ulrich Ahle, CEO, FIWARE Foundation.
"Data spaces have the potential to transform the way data is shared, operationalised and even monetised between different organisations. Given the complexity of smart city ecosystems, they will be critical to improving public services", summarises Juanjo Hierro, CTO of FIWARE Foundation.
Having created high expectations coming from the implementation of data spaces, they are still an emerging concept for Smart Cities – but there are already today a number of active use cases in the market that demonstrate best practices and trends. This white paper helps answering the main questions of the why, what, and how when it comes to Data Spaces:
What does best practice look like?
What is the role of FIWARE in creating data spaces?
How can Data Spaces preserve data sovereignty and promote trust?
Where and how does data value creation happen?
What do concrete use cases from the FIWARE community and network look like?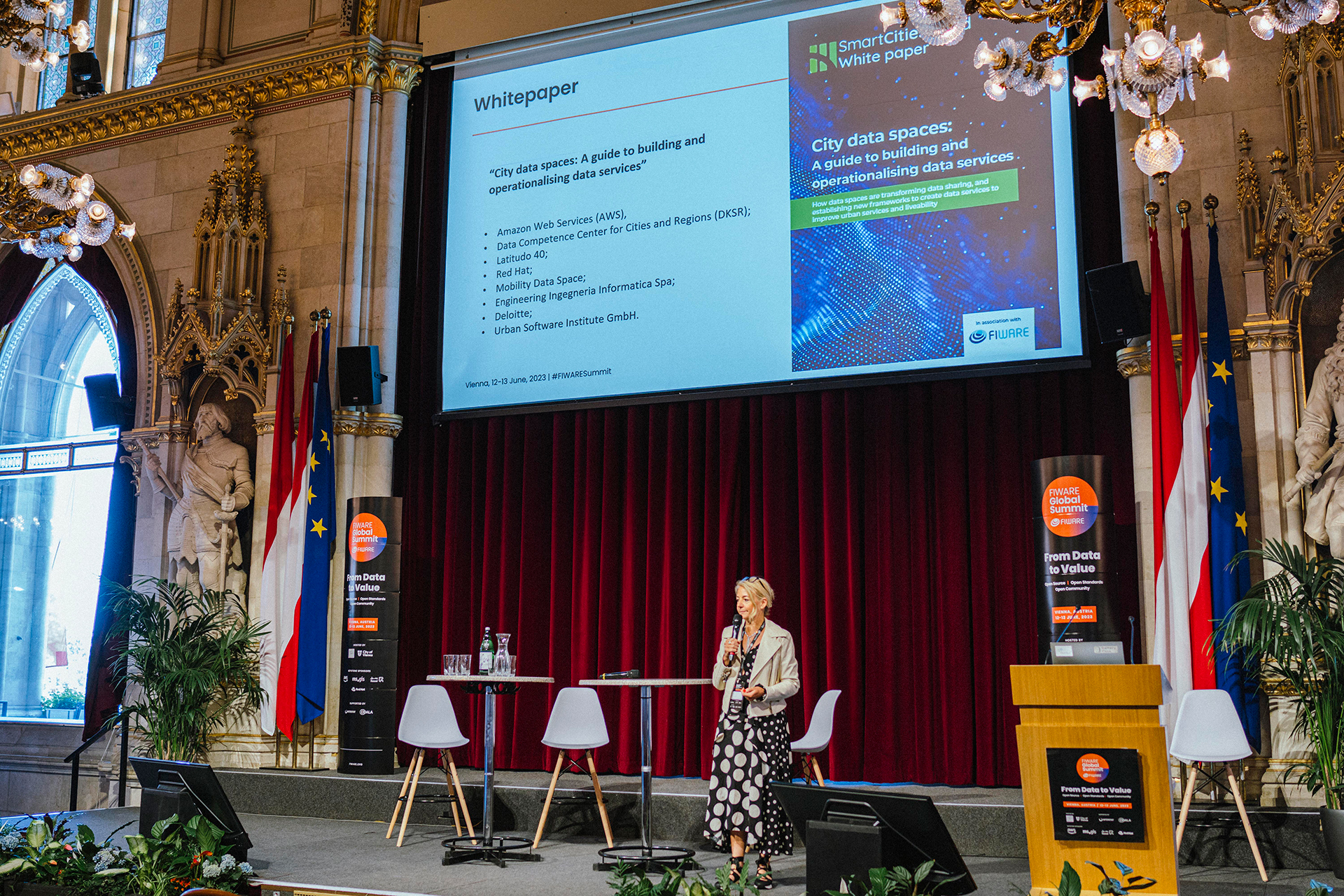 Cristina Brandtstetter present the City data spaces White Paper during the FGS23
Would you like to learn more about Data Spaces for Smart Cities, regions, the water and energy sector, and get a unique guide to building and operationalising data services?