Nine months to a viable business model: that's all the time the 96 startup teams have with the support of the SpeedUP! Europe FIWARE Accelerator programme. It makes sense, then, to get feedback and make any corrections quickly. The startup mentors' approach is one of 'milestones against uncertainty', with startup candidates pitching their projects briefly to an external panel of judges to show that they meet the requirements. What is their technology about? Are there already any prototypes? How will potential customers be involved in the process? Those who pass this test go through to the next round. "89 teams have managed it – that's a fantastic success!" says programme director Stefan Stengel. 96 teams in all put themselves forward to make their pitch.
Germany, Hamburg, 30.4.2015 .- Together with business architect Olaf-Gerd Gemein, Stengel has been charged 2014 by the EU with coordinating the programme. The aim is to get as many startups as possible up and running successfully with FIWARE. "We are often asked by the teams how many will have to go", explains Stengel, who also coaches on the programme. His answer is always: "I'd prefer for all of you to stay." Staying means financial and practical support for a startup, over a period of nine months, at HUB Gausshof in the Germany/Hamburg, and Satellite HUBs in Stockholm at Kista Valley, in Copenhagen at Symbion Science Park and in Amsterdam at the StartUp Center Berlage. Each startup receives initial € 50,000 of EU Grants, while more than 35 international coaches and 130 mentors are in charge of optimising business models, ensuring status reports are submitted and organising workshops. Three "milestones" are also key to progressing further – these involve succeeding at tasks conducted in English before an independent panel of judges.
"We have been able to appoint nine experts to the panel, including those who have succeeded with their own startups, academic experts, and advisers from the HWF, the Hamburg Business Development Corporation", says Stengel. Having been divided between three panels, the teams had to demonstrate both speed and zest: they had a maximum of seven minutes and twenty slides to get the main points across about their product, process, customer surveys, and the integration of the EU-co-funded open source software library FIWARE. However, the pitch was not the only deciding factor: points had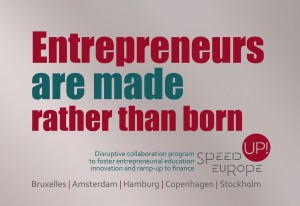 already been awarded for presence, involvement in workshops, work with the coaches, and weekly reports. "Combining continuity and creativity is what matters if you want to operate successfully in the market", explains the director of the accelerator programme. Only seven teams failed to meet the requirements for further funding.
"SpeedUP! Europe is also a great addition to the Hamburg startup scene. The 96 teams have come from all over Europe and have not only brought many innovative ideas and new business models to the city but also the enthusiasm to make things happen and come up with new ideas. As a member of the panel for the pitches, I was surprised at the breadth of the spectrum of new products, services and ideas being developed within the programme. I was pleased to see how cooperatively the teams work together, support each other, and benefit from each other's strengths in the group", says May-Lena Signus from the Hamburg Business Development Corporation.
Dirk Bierschwale from FounderCoaching.de, summed up his experience as follows:  "For my part, I was and remain thrilled by the atmosphere of enthusiasm and the multitude of great ideas. It was all extremely well organised and the "flow" among all involved was huge. A fantastic HUB with really interesting and enthusiastic startups and good hosts. I would be happy to come back when it's time for pitching again!"
"This programme demands huge commitment from everyone", says Stengel, underlining the seriousness with which the selection process is taken and the high standards applied. The process is based on the lean startup approach of  Eric Ries and Steve Blank. This comprises brief, verifiable development and test phases, to determine whether the chosen business model is the right one. Speaking from experience, Stengel explains: "Many startups fail because they invest a lot of time and money in a product for which there is no market." To avoid this, the startup teams at this Accelerator are expected to acquire real customers as quickly as possible: "At the time of the first milestone, this was still theoretical, through interviews and surveys with potential customers and users." From this point on, it is about getting real paying customers and growth. At the end of the process in November, 6th, at the "European Conference on Future Internet" in Hamburg,  the five best teams have a chance of more financial support, in the form of prize money of  total half a million euros – if they have been true to the principle of  "build-measure-learn".
"SpeedUP! Europe is a strategic partner for all topics concerning building and boosting the startup ecosystem in Europe. I value the deep industry knowledge and the capacity to network Europe-wide and to build initiatives of scale and impact, which the SpeedUP! FIWARE Accelerator does in a private and public sector setting. Think "fast and big" makes Olaf-Gerd Gemein a key partner in Germany", commented Peter Fatelnig, Deputy Head of NET INNOVATION, European Commission.