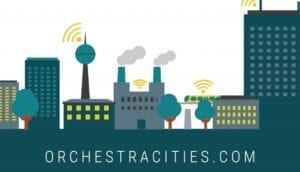 Orchestra Cities, the open Cloud-based smart city platform by Martel, has reached a new level of maturity and popularity in 2019. The current version of Orchestra Cities has expanded a broad range of options on offer, while remaining true to the principles of Open Source code and Open API access.
The new Orchestra Cities supports more sensor types, vendors, communication protocols and data representations, and provides users with alternatives – extending to web dashboard technology and data pipeline transformation tools, thus customizing entire subsystems. The results of this technical growth are significant. In Q1, 2019, pre-existing installations have been upgraded and expanded and new business has been acquired. Orchestra Cities' new client is leveraging the new features as well as the high scale-ability and multi-tenancy traits, core strengths of Martel's offering since day one.
Further encouraging feedback was gathered during the IoT Week conference that took place 17 to 21 June in Aarhus, Denmark. Martel showcased Orchestra Cities to event attendees and the general public. Visitors were able to interact with a Lego model of a city district and directly observe the results of their action.
Dr Giovanni Rimassa, Martel's chief innovation officer, was on hand at the booth to help conference participants understand how the Orchestra Cities platform works by interacting with the Lego model.
"We want people to experience the capabilities of Orchestra Cities in an immediate and fun way.", Rimassa said. "The Lego model allows a visitor to see the big picture and experience the powerful combination of sensor data and scenarios that make up a Smart City context. While everyday Lego-life goes on in the model, continuous data streaming to our open Cloud-based platform happens behind the scenes. We have five microcontrollers and more than 10 sensors from multiple vendors embedded underneath these bricks."
Visitors could see the data on various Web dashboards, displayed on a computer screen, data visualizations were also directly accessible through a QR code visitors scanned with their phone camera. A start page provided an overview of the current air, traffic, and waste status, while drill-down views focused on time history and statistics of specific data series.
Martel's CEO, Dr Monique Calisti, highlighted the core approach and values underpinning the Orchestra Cities effort during her welcome speech at the panel on IoT for Smart Cities and Communities. "The three dimensions of openness that we advocate and practice with Orchestra Cities are key enablers for the adoption and success of human-centric Smart Cities. Open standards ensure interoperability and level the playing field, while Open APIs create an ecosystem where no provider can terminate the value chain just to extract rent from it. Finally, access to open data compounds and amplifies the reach of the information the city gathers from its sensors." Calisti said.
The combined experience and feedback received from new customers, IoT Week participants and the Orchestra Cities community at large is a huge help for Martel to learn the best way forward for the platform. The current roadmap is also inspired by (and tries to align with) innovation activities such as Next Generation IoT, the Digital single market initiative, and Trustworthy AI; this organic synthesis of users' needs and innovative vision is the fuel that propels Orchestra Cities forward.
Learn more about Orchestra Cities, a 'Powered-by-FIWARE' Platform, in the FIWARE Marketplace.