A digital reference within Germany, the city of Paderborn is further driving its digital transformation with FIWARE technologies 

Aiming to build a digital ecosystem, Paderborn is currently developing a central open data platform; 

The city will soon offer the first version of the platform to other German cities as Open Source;

Together with HYPERTEGRITY and Profirator, FIWARE technology plays a key role in Paderborn's digitisation journey

Paderborn will also host the Smart World by FIWARE (made out of Lego bricks) to showcase how FIWARE powers up Smart Cities with connected mobility

 
Joint Press Release
Berlin, August 10, 2020 — FIWARE Foundation, the non-profit organisation that drives the definition and encourages the adoption of open standards — implemented using Open Source technologies and reference architectures — to ease the development of smart digital solutions across multiple domains, announces today, together with the city of Paderborn that, for the first time in Germany, a FIWARE Open Source solution for Smart Cities will be offered by a city to other cities to address major city challenges. It will do so through open development, greater interaction and modern management between cities to achieve a reduction in development and implementation costs and create a better quality of life for citizens. 
With the large majority of Germans living in cities and towns, the relevance of integrated sustainable urban development through smart digital solutions — and the need for them to be wholly or substantially based on Open Source technologies — is widely recognised across Germany, as reflected by the project Smart Cities Made in Germany. Launched by the German Federal Ministry of the Interior, Building and Community in cooperation with KfW, the project supports municipalities to get their digital vision on the right track. Some of the cities that have taken part in the first phase of the project have already decided to use FIWARE technology to create their Smart City platform and then build smart digital solutions on top of it.
FIWARE and Paderborn 
Located in North Rhine-Westphalia and with more than 150.000 inhabitants, Paderborn has high ambitions with regards to digitalisation. In contrast to its ancient history, the city breathes modernity and digital innovation. As one of the most important centres of the computer science industry in Germany, the city is home to many leading IT companies. With the aim of building a digital ecosystem for its local economy, Paderborn is currently developing a central open data platform, funded by the state of North Rhine-Westphalia, as part of its funding program to get its regions on the digital path. A FIWARE Foundation member, Paderborn lays the cornerstone of an innovative Smart City architecture for open data, from which other cities will soon benefit, on a license-charge-free basis.  
The FIWARE framework stands at the core of the platform, providing features such as context and identity management. Paderborn's open data platform will use Open Source components from the FIWARE catalogue with the Orion Context Broker — the core integration technology in any "Powered by FIWARE" architecture  — at the heart of it. Adopted by the European Commission as a CEF Building Block within their Digital CEF (Connecting Europe Facility) program, this specific FIWARE technology is now officially recommended to public administrations and private companies as the basis for the development of digital services, which can then be replicated across member states and interoperate cross-border. 
The setup of the FIWARE stack and API Management has been carried out by FIWARE Foundation members HYPERTEGRITY and Profirator. The two organisations are part of the large team — which includes Unity, a leading management consultancy with a strong focus on digitalisation — that is supporting the city to deliver its digital vision. Once up and running (the first results are set to be introduced in 2021) the platform will gradually be expanded to include further use cases from the fields of IoT, ​​geodata and tourism. For Michael Dreier, Paderborn's Mayor, the interoperability and replicability elements of FIWARE technologies played a crucial role in their decision to adopt the technology and it's now time for other cities to also take advantage of it.
"The potential for the neighbouring cities to benefit from our platform will be enormous: it will allow smart solution providers to concentrate their efforts on other areas of their solutions and not so much on implementing features such as enabling visualisation, interoperability or connectivity, for instance. Cities can also benefit from the lesson learnt process and best practices experienced in Paderborn", Michael Dreier. 
The power of collaborative approaches
Soon, FIWARE components will be combined with other software solutions such as CKAN and the citizen reports system. This project marks a new beginning for Paderborn's digital vision, as it is the first German city to make its open data platform available to other cities free of charge. Moreover, most of the components are offered under an Open Source license. The benefits are of enormous importance as cities can then skip the time consuming phase of designing the platform themselves. With Open Source-based, ready-to-use solutions, cities can generate innovative business models, reduce costs, foster knowledge sharing, good practices, and lessons learnt with other cities, whilst also being able to work with third-party providers, by using standardised interfaces.
"This project is the best way to showcase how easy it is to implement FIWARE technologies. In just 3 months, the first version of the platform was up and running. Another key feature of the platform is that it was deployed on a scalable Kubernetes infrastructure, managed by teuto.net, meaning that the setup base offers flexible growth. Paderborn is the latest city to experience how the deployment of FIWARE-based, ready-to-use smart digital solutions helps cities to become more competitive, and a place people choose to live, work and play in", Ulrich Ahle, FIWARE Foundation CEO.
Learning from the Smart World by FIWARE
To showcase how FIWARE is powering up Smart Cities with connected mobility, on August 11, the Smart World by FIWARE can be seen up close during the launch of Paderborn's new digitalisation office. Made entirely of Lego bricks and containing the town hall of Paderborn, the gigantic model was initiated by the Smart MaaS project — funded by the Federal Ministry for Economic Affairs and Energy as part of the technology program "Smart Service Welt II". It has since grown considerably due to the cooperation between FIWARE Foundation, Engineering Ingegneria Informatica S.p.A., NEC Lab, Cleopa, Fraunhofer IESE, DFKI, regio iT, Addix, Linz Center of Mechatroniks, Smart Cities Lab, and StoneOne AG.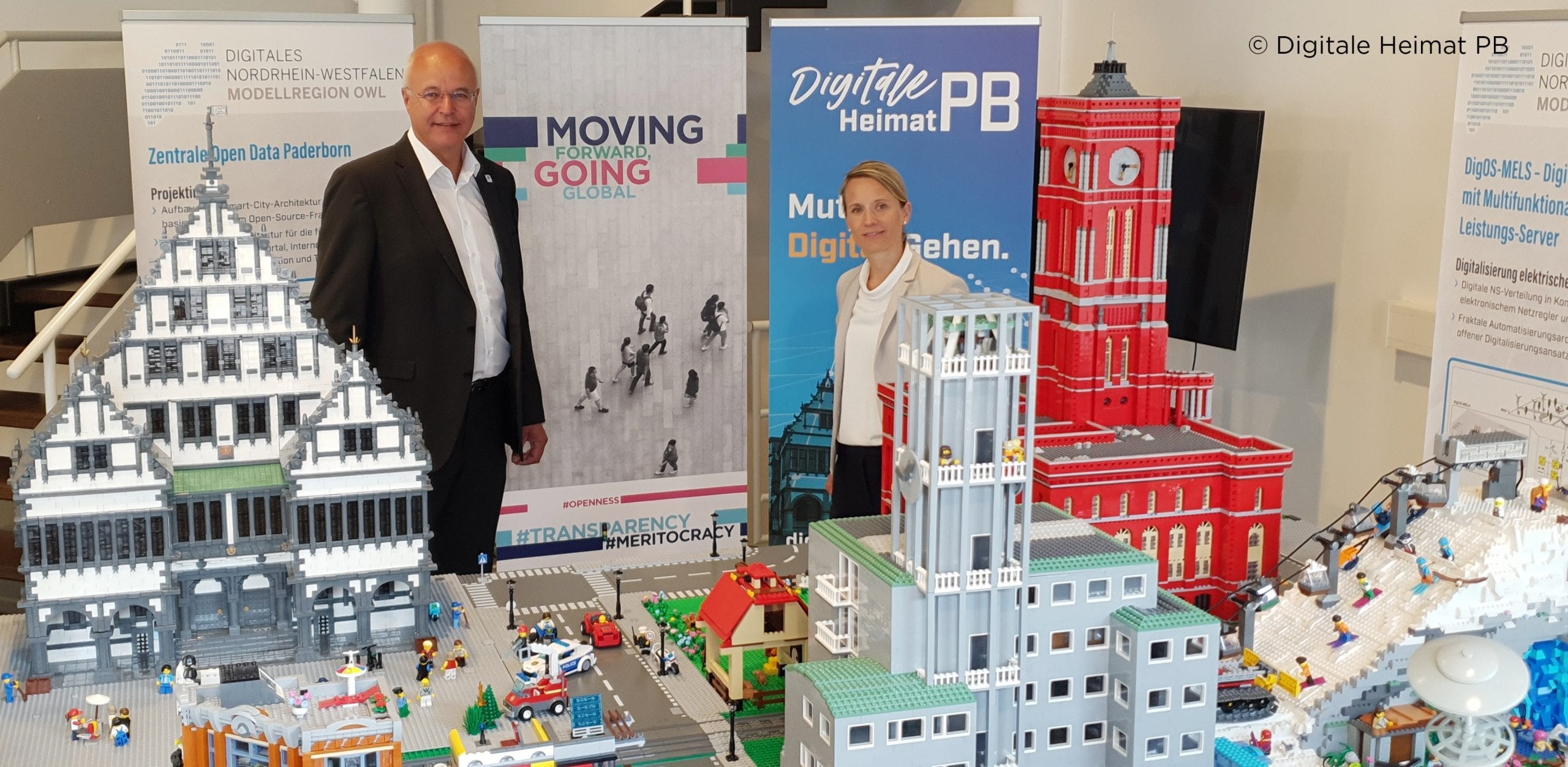 Ulrich Ahle (FIWARE Foundation CEO) and Christiane Boschin-Heinz (Paderborn's Chief Digital Officer – CDO)
Divided into sectors, the Smart World by FIWARE features the potential of Open Source technology for Smart Cities, Smart Mobility, Smart Industry, Smart Energy and Smart AgriFood, by highlighting the various domains — and how they interact with one another — to power up cities. Open to the public, the Smart World by FIWARE will allow locals and visitors of all ages in Paderborn to experience on a hands-on, interactive, and educational guided tour what FIWARE's smart digital vision looks like.
About FIWARE Foundation
Together with its members and partners, FIWARE Foundation drives the definition — and the Open Source implementation — of key open standards that enable the development of portable and interoperable smart solutions in a faster, easier and affordable way, avoiding vendor lock-in scenarios, whilst also nurturing FIWARE as a sustainable and innovation-driven business ecosystem. The Foundation achieves that through the support of a fast-growing global community that shares a common vision and combines their efforts toward making FIWARE the Open Source technology of choice for industries, governments, universities and associations to reach their full potential and scale up their activities, thereby, entering new markets and growing their businesses. Founded in 2016, the foundation has Atos, Engineering, NEC, Red Hat, Telefónica and Trigyn Technologies among its Platinum members as well as +350 global members. For further information, visit fiware.org and follow us on Twitter, LinkedIn, Facebook and Youtube. 
Press Contact for FIWARE Foundation: Val De Oliveira: valdirene.deoliveira@fiware.org 
Press Contact for Paderborn Digital Office: Ines Hoischen: i.hoischen@paderborn.de