At this year's GCTC, the partners announced global partnership between Trigyn Technologies, APInf, Smart Cities Lab and Vero City to address the North American Market
July 12th, 2019 Washington – Global Cities Team Challenge #GCTC
One of the most complex challenges that face smart city development today is the interoperability of data. Data and technology silos are reinforced by legacy systems and were never designed to talk to each other, often resulting in vendor lock-in. Technology nowadays must operate within a connected and integrated ecosystem to realize its value. Also, a new governance model of standards and technologies – not only open, but also open source – is becoming increasingly more important. The new partnership is betting on FIWARE technologies, the open source and standardized framework of components and API to build platforms.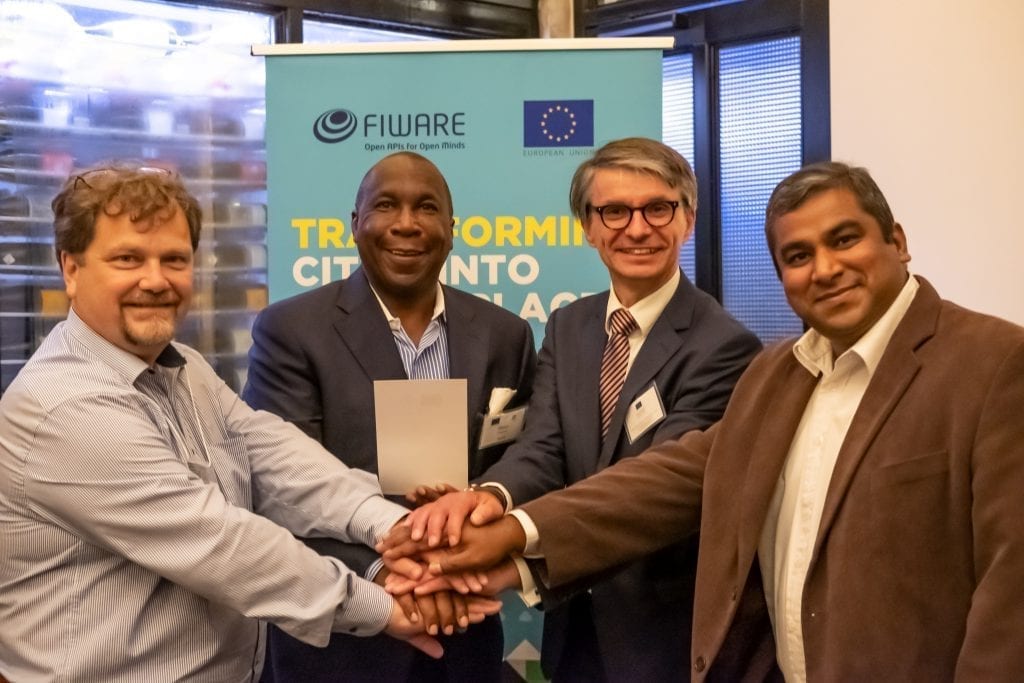 "With this new partnership, Smart Cities Lab has increase its capacity and general capabilities. We can now offer fully integrated services from design to implementation to operation. Our common customer base spans all continents!" said Olaf-Gerd Gemein, CEO of Smart Cities Labs in Hamburg.
To realize smart services, small and mid-size cities and rural regions urgently need to create digital infrastructure, including open data access, sensor networks and fast public wifi. However, many such cities still only have limited access to funding and lack competencies in formulating a vision of digital transformation, as well as in strategy setting, and roll-out and operation of services.
"The partnership with Trigyn Technologies, Smart Cities Lab and Vero City will bring scalability and global reach to the battle-tested open source solutions of APInf in the areas of APIs, Transportation, and Smart Cities. We have contributed APInf's API Management to FIWARE software stack and it has been very active in building ecosystems around FIWARE. This partnership will further boost our activities on a global scale," said Chandra Challagonda, CEO of APInf Oy in Tampere, Finland.
FIWARE stack based solutions empower various communities around the world by providing a standardized way of collecting data and making it available by APIs to help communities build solutions and become more innovative.
"The partnership with Smart Cities Lab, Vero City and APInf has enabled us to provide a one-stop- shop and end-to-end solutions for our smart city customers globally. Through this partnership, we are hoping to bring more benefits to our customers and leverage the FIWARE eco-system with our combined expertise," said Dr. Bhaskar Sanyal, Head of Trigyn Europe and Executive Director of Trigyn Technologies Schweiz GmbH.
The partnership between Trigyn, APInf, Smart Cities Lab and VeroCity has been created to answer, in a holistic fashion, the needs of a city to become smart. Each partner draws on particular strengths, which together create an exciting offer, based on innovative open source principles, free access and cost-efficiency:
Hamburg and Berlin-located Smart City Lab and Vero City are currently advising more than 50 large, as well as small to medium-sized cities, globally and helps them access public funding to develop innovative procurement strategies and implement data management infrastructure.
APInf's API management platform, implemented for Helsinki Transportation and Tampere / Finland, and FIWARE's open source architecture and components, help to make cities more efficient in the management of their infrastructure resources.
Trigyn, a global player and systems integrator, which originated in India and is now established in several global regions, including Europe, North America, Africa and the Far East, offers IT solutions, systems integration, managed services and software development with over 1,500 resources deployed worldwide.
"City officials often underestimate the numerous aspects involved in setting up digital infrastructure, data management and smart services. There is a huge opportunity to develop the city as a platform and to grow economically. All this needs a partner network that can deliver a breadth of innovative services, as well as hardware and software solutions," said Verus von Plotho, MD of VeroCity in Berlin.
Through this partnership of statutory member of the FIWARE Foundation in Berlin, cities now have access to a reliable and premium network of experts, developers and operators. This can speed up their journey towards a smart city with reference to standard architectures, and implement fast and on a large scale, and also avoiding vendor-lock-in effects. The start of this collaboration has been marked by first joint smart city projects in Germany, Austria and Switzerland mark the start of this collaboration. We aim to reach 50+ cities within the next 5 years, with a total investment of 100 Mio EUR.
Trigyn
trigyn.com
Dr. Bhaskar Sanyal, Director Trigyn Technologies Schweiz GmbH, Place de Cornavin 7, CH-1201 Geneva.
Bhaskar.Sanyal@trigyn.com
Trigyn Technologies is an IT Services Company that has been in business for more than 30 years. Trigyn provides IT Solutions, Staffing, Consulting, Systems Integration, Managed Services, Software Development, Maintenance, and other services. Today, Trigyn has more than 1,500 resources deployed across locations in the United States, Canada, Europe, India, Africa and the Far East.
APInf
apinf.com
Chandra Challagonda, CEO Pyhäjärvenkatu 1 B 41, 33200, Tampere, Finland
chandra.challagonda@apinf.io
APInf is focused around building excellent developer experiences for the customers of APIs with all its available tool-chains. APInf is also a part of FIWARE and a contributor to FIWARE stack. APInf's API Management is integrated with the FIWARE's Data Management module to manage data through APIs. APInf is fully open source and has been following the open process model for development.
Smart Cities Lab
Olaf-Gerd Gemein, CEO and Founder
Elbchaussee 28, 22765 Hamburg, Germany
oggemein@googlemail.com
Consulting for innovation clusters in cities – for citizens. Representative of OASC, an international Smart City network of currently 140 cities.
Vero City GmbH
Verus von Plotho, Managing Director
Kurfürstendamm 11, 10719 Berlin, Germany
vvp.consult@gmail.com
Implementation of products & services, funding and project management, as well as design and strategy implementation