Far from losing momentum, FIWARE Mundus is glad to report that the position of FIWARE as global open community is gaining traction in the USA. Following up the series of conferences organized by the National Institute of Standards and Technology (U.S. Department of Commerce), a delegation from the FIWARE Mundus Team attended the GCTC SuperCluster kickoff meeting in Washington D.C. The Global City Teams Challenge -where FIWARE is an official partner alongside reference organizations like IBM, GE and Qualcomm- is a cornerstone activity within the recently announced White House Smart Cities Initiative.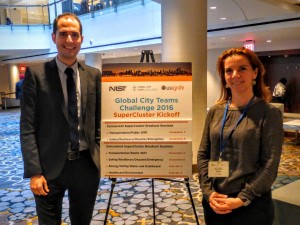 The event served to present and coordinate the new structure and priorities for the second phase of the initiative. The participant organizations are assembled in large multidisciplinary teams, named SuperClusters, where they will join forces with Worldwide cities (e.g. Portland, Boston, Beijing, Daegu, Kansas City) to tackle common challenges in a replicable manner. The ultimate goal is to establish sharable blueprints that can potentially be adopted by numerous communities at global scale. The most relevant SuperCluster will be highly promoted during the next GCTC Expo in summer 2017.
Relying on some of the teams that participated in the past GCTC Expo celebrated last June in Austin, Texas, FIWARE will be represented in the SuperCluster of Transportation (by the cities of Porto and Valencia, together with the SMEs Ubiwhere and Visiona) and the SuperCluster City Platform (with the cities of Perugia and Logroño, together with the SMEs TeamDev and JIG). Nonetheless, there are other SuperClusters in the areas of Energy/Water, Healthcare/Environment and Emergency Preparedness/Disaster Recovery. More partners and cities are encouraged to participate; what are you waiting for?
If you want to find out more information about the next meetings in the beginning of next year, reach us in fiware-mundus-req@lists.fi-ware.org.
Jose Gonzalez and Geraldine Quentin, on behalf of the FIWARE Mundus Team