FIWARE Mundus were invited by the EU-India FI-MEDIA project to present how FIWARE can concretely be used for the development of "smart environments" in India (e.g., smart cities, smart villages, and smart campus). This event was co-located with a larger scale event held in Indian Institute of Technology Delhi (IITD) entitled International Conference on Smart Cities (ICSC 2016) held on 22nd – 23rd January, 2016, venue: IIT Delhi. The full report of the successful event can be found here.
The methodology developed for Senegal, Tunisia, and China has been presented and very well accepted by the ecosystem participants in India. In addition, the success of Brazil's use of FIWARE to date was presented in the event. Now the idea is to identify an Indian smart environment program that could take advantage of the FIWARE platform.
It looks as if the Digital India program is covering such areas and there should be an opportunity for FIWARE in this context.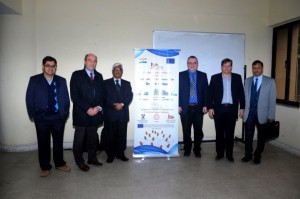 (L-R): Prof. Arpan Kumar Kar (Dept. of Management Studies, Indian Institute of Technology Delhi), Pierre Yves Danet (Orange Labs, France, EU FIWARE Mundus program), Abhishek Sharma (Beyond Evolution Tech. Solutions, Gurgaon, India), James Clarke, (Waterford Institute of Technology, Ireland, FI-MEDIA coordinator), Prof. Flávio de Oliveira Silva (Faculty of Computing (FACOM), Federal University of Uberlândia, FIWARE node Brazil), Prof. M.P. Gupta (Department of Management Studies, Indian Institute of Technology Delhi).
FIWARE Mundus will continue to work with the EU-India FI-MEDIA project and their counterparts in the India Smart Cities programs in order to investigate this clustering opportunity and go through the methodology in order to check that the ecosystem is sufficient to ensure a sustainable usage of a FIWARE platform.
Stay tuned for more information to come within the next weeks and months and don't hesitate to contact us if you can contribute to the FIWARE Mundus activities in India.
The EU-India FI-MEDIA project is an International cooperation mobility project funded by the Delegation of the European Union to India, under a programme entitled ICI+, which is instrumental in the formation of mutually beneficial EU-India cluster to cluster (C2C) partnerships in a variety of Lots, including Information and Communications Technologies (ICT), the focal point of the four year project (Dec. 2014 – Dec. 2018).