The results will drive the standardization of data models for autonomous mobile robots.
Berlin, January 8, 2020 –
TIS Inc.
, a comprehensive IT service provider based in Japan, covering a wide spectrum of industries and sectors with everything from core systems to applications (including development, data-centers and cloud services), and the
University of Aizu
have announced the successful completion of a Proof of Concept (PoC) which will further help the automation of a logistics system, through effective collaboration between Inventory Management Systems and Autonomous Mobile Robots.
The PoC took place on November 26-29 at LICTiA, University of Aizu's Laboratory for leading-edge ICT. The first university in Japan solely dedicated to computer science and engineering, Aizu trains robot engineers and foster the adoption of robotics technologies through activities such as research and development of robots, their software, cloud robotics, and standardization in the robotics domain.
Part of the TIS INTEC Group (comprising 60 IT companies and 20,000 employees worldwide), TIS Inc. has more than 3,000 customers across varied industries such as financial services, manufacturing, logistics/distribution, public services and telecommunications, with a strong presence in China and the ASEAN region. Besides providing cutting-edge IT solution services, TIS Inc. contributes to the growth of its customers' businesses by being their technology partner and offering global support.
TIS Inc. has been a Gold member of FIWARE Foundation since 2018, applying FIWARE to data interfacing with robot-to-robot connections as well as data interfacing with robots, IoT, open data and other solution components.
The Findings
The results of the PoC have proven the effective automation of a system for logistics, using heterogeneous mobile robots developed by the University and the RoboticBase. A platform enabling the management of real-time data from various robots, IoT sensors and open data, the platform, based on FIWARE technology, uses this data to control and manage robots and their operations.
The Administrator directs the IMS (Inventory Management System) to prepare packets in Warehouse1 to be transferred to Destination2;
The autonomous mobile robot receives waypoints from the IMS to arrive first at Warehouse1 and go from there to Destination2;
A worker loads packets onto the robot when the robot arrives at Warehouse1;
The robot goes to Destination2 after loading completes;
A customer picks up the packets at Destination2;
The robot returns to the initial point after the operation.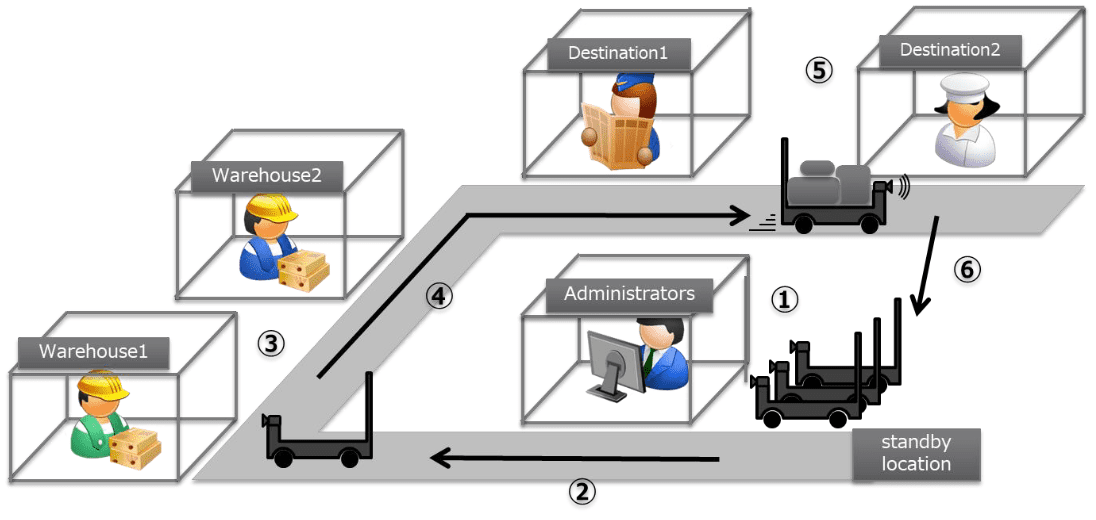 Details: Automation of logistics systems for last-mile delivery, using "RoboticBase" and "EVEN" (an inventory management system provided by TIS Nagano). Inventory Management System by TIS, combined with autonomous mobile robots developed by the University of Aizu.
Through the PoC, TIS has also verified how RoboticBase simplifies the integration between heterogeneous robots and various business systems, using standard interfaces between them. TIS plans to introduce service robots to various business domains using the platform. The University of Aizu will contribute by installing new technologies, such as flexible path planning to connect information systems.
Verified Concepts
Collaboration between RoboticBase and ERP systems;
Novel path planning method for autonomous mobile robots;
Data models for the interfaces between the RoboticBase system and autonomous mobile robots.
A social-economic Background
Using service robots in human places is a promising approach to solve social problems such as labor shortage and an aging population. However, the role of robots has not yet been defined in conventional business systems. TIS has been developing RoboticBase to enable the collaboration between service robots and business systems.
On that front, TIS and the University of Aizu plan to launch a new PoC targeted to solve social problems in several cities in the Fukushima prefecture, such as Aizu-Wakamatsu and Minami-Soma.
About RoboticBase
RoboticBase is a platform for commercial use, based on RoboticBase-Core to achieve integrated management of service robots and IoT sensors based on FIWARE, which provides the fundamental framework of RoboticBase for IoT and Smart City applications. RoboticBase includes RoboticBase-Core for research and development and RoboticBase for enterprise use.
It enables the integration and management of heterogeneous robots, which have different tasks such as security, cleaning, transportation and other tasks, supporting the collaboration of the robots with people and business systems. The current version supports only service robots but will support drones in the future.
About RoboticBase-Core
RoboticBase-Core provides core components of RoboticBase for research and development. TIS provides it in the form of open source software.
Upcoming Outreach and Shows
Expanding the outreach of the project in the field of service robots, TIS will push the standardization of data models used in the interface between the RoboticBase system and autonomous mobile robots facilitating the connectivity. Furthermore, several actions are planned to validate and register the defined data models as FIWARE data models. This standardization effort will take place as part of the activities of the Robotics Tech Roadmap Working Group (WG).
Coordinated by FIWARE Foundation, the WG discusses the potential of FIWARE technology in the Robotics field and it is composed by FIWARE Foundation members, such as TIS, Fraunhofer IML, Atos, eProsima, and many others. The Working Group is planning to publish a position paper on Robotics and FIWARE during the Hannover Fair (April 20-24, Germany). Stop by at FIWARE's booth (Hall 8, Stand C25) to learn more about FIWARE's community complete offering for Industrie 4.0. and meet the FIWARE partners who will be showcasing FIWARE-powered solutions and use cases for Smart Industry.
About FIWARE Foundation
Founded in 2016 by Atos, Engineering, Orange and Telefónica, FIWARE Foundation is a non-profit organization that drives the definition and encourages the adoption of open standards (implemented using open source technologies) that ease the development of smart solutions across domains such as Smart Cities, Smart Energy, Smart AgriFood and Smart Industry, based on FIWARE technology.
The Foundation does that with the support of a growing global community that shares the vision and efforts of making FIWARE open source technology the best instrument for industries, governments, universities and associations to reach their full potential and scale up their activities to enter new markets and grow their businesses. Visit www.fiware.org for further information.
Press Contact
Val De Oliveira
valdirene.deoliveira@fiware.org
0049 15757 337082