Joint Press Release
North Africa's ICT Hub Consortium joins forces with FIWARE to deliver IoT and high tech IT solutions across the North Africa region
The iHub FIWARE Bridge becomes FIWARE's 14 iHub worldwide
Berlin, October 28, 2019.
FIWARE Foundation
, the non-profit organization that drives the definition and encourages the adoption of open standards (implemented using open source technologies) to ease the development of smart solutions is thrilled to announce the opening of the
iHub FIWARE Bridge
in Tunisia (North Africa), FIWARE's 14th iHub worldwide.
The North Africa ICT Hub is a public and private consortium composed of five institutions as follows:
FIWARE iHubs: Think Globally, Act Locally
The iHub FIWARE Bridge joins several other iHubs, who are already benefiting from the initiative. FIWARE's digital iHubs can help companies and individuals to build a network of tech-enabling communities and encourage the formation of internet-based businesses, both at a local and international level.
By offering a number of services including technology support, training, research and testing using FIWARE technology, the IHubs support companies who want to become more competitive in the digital economy. Above all else, the iHubs play a key role in growing the global community of developers, companies and cities adopting and contributing to FIWARE.
Learning from Best Practices
Another benefit for the iHub FIWARE Bridge is being able to learn from best practices and benchmarking with other iHubs as well as FIWARE's 300 members, spread from South America to East Asia. "Firstly, we want to take part in all the available trainings and certifications so that afterwards, we can train our local community on all things related to FIWARE technologies and its benefits in the fields of Smart Cities, Smart Energy, Smart Industry and Smart Agrifood. Secondly, we intend to develop an ecosystem around FIWARE and participate in the development of standards and tools with the FIWARE members around the globe," said Ali Benbrahim, Expert at Tritux.
For Stefano De Panfilis, FIWARE Foundation COO, the new iHub represents the first important step in setting up FIWARE based self sustainable digital Ecosystems for the North African region.
"The iHub FIWARE Bridge will, among many other things, gain access to the FIWARE ecosystem (including presence at international events as FIWARE's co-exhibitor, booth's partner and so on), FIWARE marketplace and get involved in FIWARE Accelerator Programmes. Most importantly, the iHub FIWARE Bridge can support other African countries to disseminate FIWARE technology, create new iHubs within the region and attract the attention of the Tunisia's decision makers as to how FIWARE can help the city to deliver its smart vision."
In line with that, between October 28 and 31, 2019, Stefano de Panfilis and Karen Vega (FIWARE Foundation's Senior Business Development Manager) will be in Tunisia to boost the operations of the new iHub, lay out the objectives of FIWARE within the region as well as meeting with representatives from renowned academic institutions such as SUPCOM, ISET Com, University of Carthage, public (including the Ministry of Technology, the Ministry of Employment) and private institutions (among them is FIWARE's very own member WAZIUP – an IoT and Big Data platform) to discuss the challenges and opportunities for Tunisia's smarter future.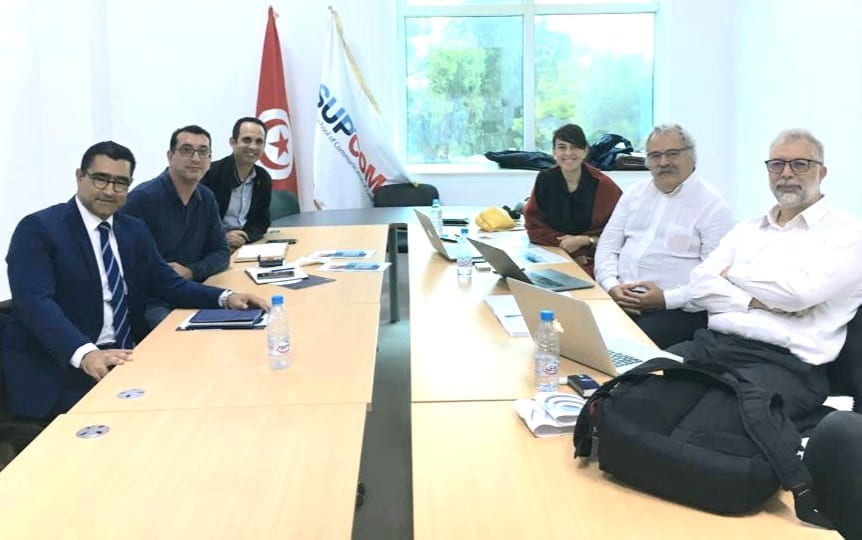 Left-hand side: Rached Hamza, Director of International relations SUPCOM; Mustapha Hamza, Director ISETCOM, Karim Ahres, Vice President CONNECT Digital.
Right-hand side: Stefano De Panfilis (center), FIWARE Foundation's COO, Karen Vega (top), Senior Business Development Manager and Ali Benbrahim, Expert at Tritux.
About FIWARE Foundation:
Founded in 2016 by Atos, Engineering, Orange and Telefónica, FIWARE Foundation is driving the development of smart solutions in a faster, easier, interoperable and affordable way that avoids vendor lock-in scenarios, whilst also nourishing FIWARE as a sustainable business model.
And the Foundation does that with the support of a growing global community that shares the vision and efforts of making FIWARE open source technology the best instrument for industries, governments, universities and associations to reach their full potential and scale up their activities to enter new markets and grow their businesses.
Press Contact:
For FIWARE Foundation
Val De Oliveira
valdirene.deoliveira@fiware.org
For iHub FIWARE Bridge
Ali Benbrahim
ali.benbrahim@tritux.com