In the endeavour of expanding the cooperation with innovation ecosystems at global scale, the FIWARE community has recently engaged with distinguished allies in Canada, continuing the engagement with North American stakeholders.
On September 15, 2016, FIWARE Mundus was invited to the final event of the ERA-CAN+ project, a platform that has been working for the last 10 years to promote research and innovation activities between Europe and Canada. The audience included representatives from public administrations (including the Canadian Embassy in Italy and Belgium), the Canada Research Council, Canadian universities and from different industry sectors.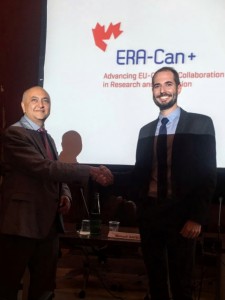 The session "Canada-EU Celebrates FIWARE Entry into Canada" served to make the official announcement on the international partnership between FIWARE and a couple of significant Canadian organizations, strengthening the position of FIWARE as a global open platform. The panel counted on the participation of Jenni Salonga, manager at the Edmonton Research Park, home to more than 1,500 members at 55+ companies working in diverse fields; and Mehadi Sayed, CEO of Clinisys, the fastest growing company resident in this innovation centre. Throughout the recent months, both contacts, with the support of FIWARE Mundus, have been actively exploring the untapped opportunities to promote FIWARE in Edmonton, capital of Canada's Alberta province. As a result, the Research Park will organize a workshop in Edmonton to facilitate the uptake of FIWARE among the local ecosystem, and Clinisys confirmed the commitment to integrate FIWARE technology in its portfolio of eHealth solutions, as well as setting up the first FIWARE instance in Canada.
Thanks to the participation in the event, FIWARE Mundus succeeded in attracting the interest of stakeholders in other Canadian communities willing to explore further opportunities in the near future. For instance, the Defence Research and Development Canada (DRDC) -the Canadian leader in defence and security science and technology- would like to welcome a delegation to explore the possibility of collaboration; and the Ministère de l'Économie, de la Science et de l'Innovation from the province of Québec is keen on exploring international partnerships with FIWARE organizations.
Given the prospects ahead in Canada, FIWARE Mundus will coordinate a European delegation to visit various Canadian locations to settle these and explore other opportunities. If you are interested, or want to know more about the international activities of FIWARE Mundus in other countries, visit our website or contact us in fiware-mundus-req@lists.fi-ware.org.
José Gonzalez, UPM, on behalf of the FIWARE Mundus Team