Edisonweb has been selected by FrontierCities, part of the FIWARE Accelerator Programme, to create an algorithm capable of solving the problems of traffic congestion.
From 18th April, the first three-week long pilot test will take place in Ragusa, Sicily, with technical sponsorship of Mercedes-Benz Vans, and it will enable the physicists and IT specialists from Catania to reach Berlin.
FIWARE / FrontierCities – The Accelerator Programme financed by the EU, to find new solutions to urban traffic congestion, gas emissions, parking problems, and the daily stress we experience when moving around cities.
Six-hundred small-to-medium companies and start up enterprises applied, but only 28 were the 'chosen ones'. One of these is Edisonweb, a team from Catania made up of physicists and IT specialists, selected to create a revolutionary artificial intelligence algorithm capable of creating a new model of public transport, excellent in terms of flexibility because capable of predicting the transport needs of citizens by applying statistical variables.
According to physicist Riccardo D'Angelo, CEO of Edisonweb: 'Our model is based on a technologically-advanced interpretation of the Cuban 'Taxi Particular' archetype. A shared taxi that moves along the arterial roads of the city and is available to more people at the same time. We have applied a technology called MVMANT to this reference model. MVMANT is an acronym deriving from the word 'Movement' –in this case referring to a 2.0 form of public transport– and 'Ant', the insect which, according to ethologists, possesses the highest level of intelligence and collective organisation in managing its paths. Besides providing a form of collective transport, MVMANT also gives people the opportunity to book their seat in the vehicle via their Smartphone, to calculate the time they have to wait and pay directly via their phone. In brief, it is a ride-sharing system which is perfectly integrated into public transport that will not only optimise the number of places occupied in a given vehicle, but will also offer a service which is directly proportional to the demand predicted for each day of the year.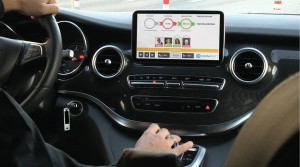 Predictive calculation is possible via the App and is gathered via the statistical assessment of a series of variables: days of the week, season, weather conditions, ongoing events, days of work/school and bank holidays. All parameters which can be used to find out if on a given day or period there is a certain need or public transport is required along specific routes'.
The MVMANT model will be tested for three weeks starting from 18th April in Ragusa with the technical sponsorship of Mercedes-Benz-Vans which will make its entire range of mobility solutions (4 vehicles) available for the purpose of the experiment: commercial vehicles Sprinter and Vito, the multi-space Citan and the Class V people carrier.
According to the mayor of Ragusa, Federico Piccitto: 'Our city will be the star of an experiment based on an innovative model that suits the new way of conceiving urban mobility, a priority of our administrative mandate. As a matter of fact, we believe in the value of mobility as a service and see it as the only effective way to drastically reduce use of private vehicles, which not only has positive effects on mobility per se, but also supports environmental protection and reduces of pollution. This is why we have gladly welcomed the solution put forward by MVMANT, as it is a step in the right direction, a viable solution to reduce traffic in urban city centres'.
Other cities have already expressed an interest in testing the model, such as Modena and Dubai, with the latter sending a delegation of its Roads and Transport Authority on the occasion of the pilot test in Ragusa, and Berlin, which recently sent a formal request, signed by the Director of the Berlin Electromobility Company (eMO), expressing the desire of the German capital to become a leader of the MVMANT experiment.
---
Information on the MVMANT model:
www.mvmant.com
Texts, images and videos for the press:
www.mvmant.com/press
Receive a digital pass and benefit from the MVMANT service for free, during the pilot in Ragusa:
http://ragusa.mvmant.com
Edisonweb Srl: 
www.edisonweb.com – (+39) 0933991199
Press office – Studio Passaparola (Giulio Santuz)
giulio.santuz@passaparolarp.it – info@passaparolarp.it
(+39) 0295380286 – M (+39) 3287321253