June 24, 2022 — Herne has received the status of a European Innovation Hub (iHub) of the FIWARE Foundation. Representatives of Herne.Digital GmbH signed respective contracts with FIWARE Foundation and IDEASFORUM e.V. Thus, there are currently three iHubs in Germany, that are an example for all municipalities in the Federal Republic. The goal of FIWARE iHubs is to contribute to the development of new intelligent applications for smart cities based on open source, and to promote digital education and competence.
Modern mobility concepts, intelligent solutions for waste management, parking space management and automated air quality measurements are only a few examples that present the urban society digitalization in Herne. "A platform, created thanks to the FIWARE Innovation Center, allows us to make digitization visible in the daily lives of citizens in Herne," explains Lord Major Dr. Frank Dudda. "In addition, it enables us not only to promote technology transfer, but also to further develop digital education and competence, in particular, to create real added value for Herne."
As an open platform, the iHub aims to drive new ideas for digital services in the future, to form a central point of contact for established companies and startups in order to jointly search for partners and project funding opportunities. The iHub focus is on developing and implementing concepts in the areas of digitalization, energy, mobility, community and sustainability in order for Herne to keep on developing as a smart city people.
Pierre Golz, Managing Director of Herne.Digital GmbH and Chairman of IDEASFORUM e.V., is pleased to be a part of the worldwide innovation network: "Using open source technology, we are able to spread innovations from the region around the world. On the other hand, we use the world's know-how to innovate. Through our collaboration with FIWARE Foundation, we want to take advantage of the international open source network, bring global innovation to Herne and create structures in other regions of the world."
Ulrich Ahle, CEO of the FIWARE Foundation, added: "FIWARE is now the world's leading open source technology for cities and municipalities digitalization. More than 500 cities in more than 30 countries around the world are implementing their "smart city" with FIWARE technology. FIWARE iHubs (Innovation Hubs) play a leading and significant role in further introducing the technology to the market. We are pleased to welcome Herne as the 28th iHub in our global iHubs network."
Another focus in accordance with the "Smart People City" concept of Herne is the promotion of digital know-how for citizens and businesses. The iHub in Herne will become a meeting point for local and regional business partners, society and science to promote digital innovation. Furthermore, training and education in the open source technology field will be presented in the future. In addition, FIWARE iHubs will also conduct workshops to jointly design the Smart City, and thus it will enable them to test, develop and get aware of FIWARE solutions.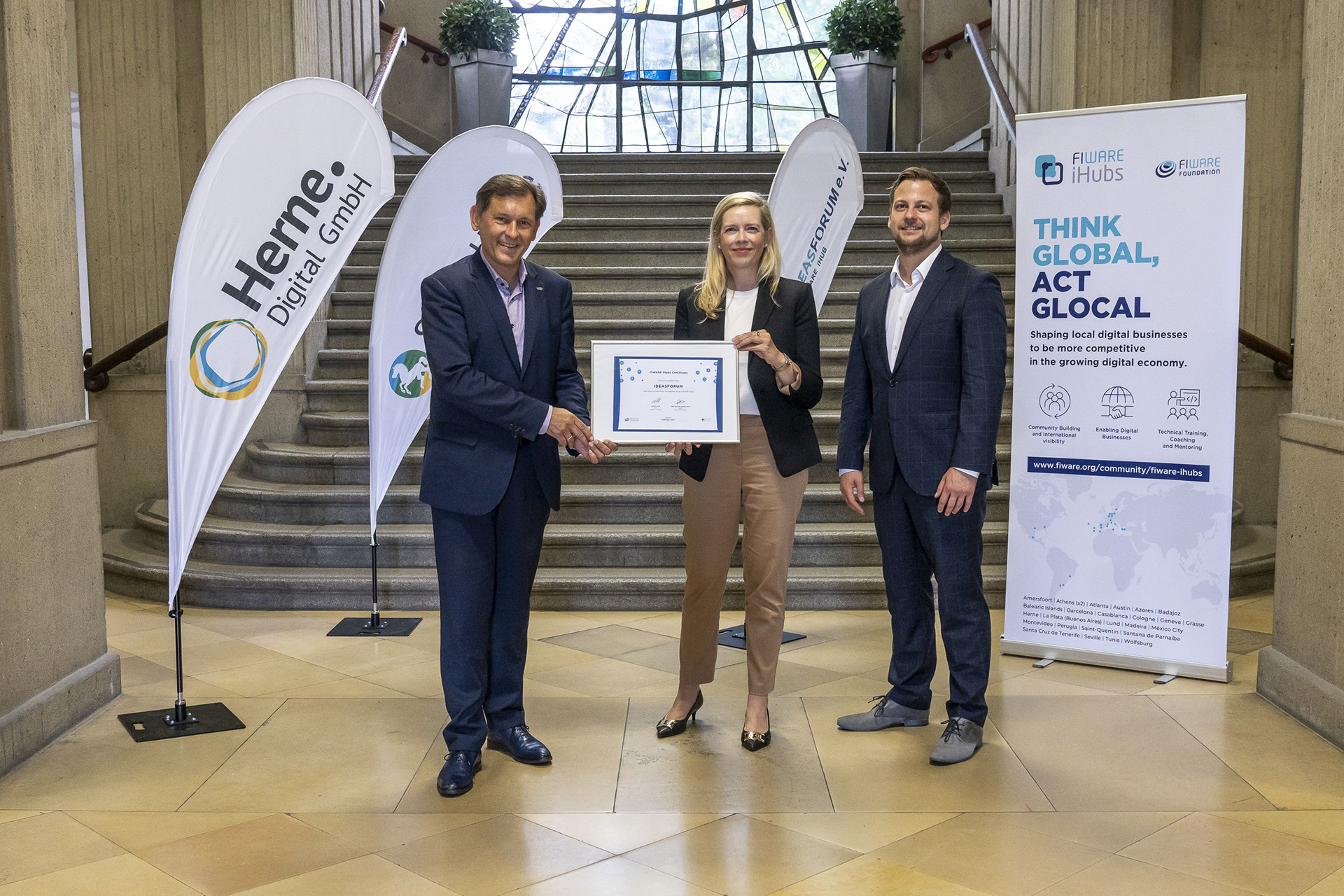 From left to right: Lord Major Dr. Frank Dudda, Bianca-Sybille Horstmann, Chair of the Herne.Digital GmbH shareholders board, Pierre Golz, Managing Director of Herne.Digital GmbH, Chair IDEASFORUM e.V.
Ready to learn more about the new Innovation Hub in Herne?