On August 14th, 2017, Netzlink Informationstechnik GmbH started to support FIWARE Foundation e. V. as a gold member. In future, Netzlink will continue to provide the only German FIWARE node for cities, companies, and developers.
FIWARE came into being with the EU Commission's "Future Internet Private Public Partnership" project five years ago. The project's purpose was the creation of an open and sustainable ecosystem supporting the development of intelligent applications. Thanks to EU support, it was possible to develop an open source platform for smart solutions with many standards and applications; nowadays, those are used in more than 110 cities and over 25 countries around the globe.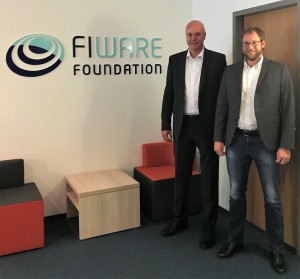 To further promote FIWARE's mission, FIWARE Foundation e. V. was set up by the four founding members Atos, Engineering, Orange, and Telefonica in Berlin in 2016. FIWARE Foundation wants to bring FIWARE technologies to even more people and to support the FIWARE community. FIWARE took its first steps in the area of smart cities – today, the platform is of major importance in the fields of agriculture and manufacturing as well. "Netzlink's joining of FIWARE Foundation," underlines Ulrich Ahle, CEO of FIWARE Foundation, "means that an important champion of our projects comes on board."
Netzlink has been providing the first (and, so far, the only) FIWARE node in Germany since 2015. This enables companies and cities to use FIWARE's infrastructure and resources, which tremendously simplifies app development for them. Martin Lange, Cloud Manager at Netzlink, explains: "Think of so-called generic enablers as ready-to-use building blocks. Using them, developers working on their own apps only have to do a little bit of development work themselves." Initially, the node provided by Netzlink was a FIWARE Lab, an environment for EU-funded start-up companies. Since 2017, these resources are also available to the business community. "We are looking forward to providing this infrastructure to companies and cities for their fields of productivity; this way, we can meet all demands. Whether our clients want to start by trying and testing the new environment or already have a specific application in mind – with us, they are in good hands," adds Martin Lange.
FIWARE's infrastructure is based on OpenStack technology. Netzlink is not only very experienced when it comes to this open cloud platform, but also with regards to the implementation of 'smart' projects. "Open data portals and FIWARE projects for companies and cities in Germany, Austria, and Switzerland prove us and FIWARE's mission right: smart solutions for businesses, manufacturers, agriculture, and cities around the globe!" rejoices Sven-Ove Wähling, CEO at Netzlink.
For more information, please see www.flink-node.de

Header photo by Anthony DELANOIX on Unsplash.