Smart Digital Economy – What has Open Source gotta do with it?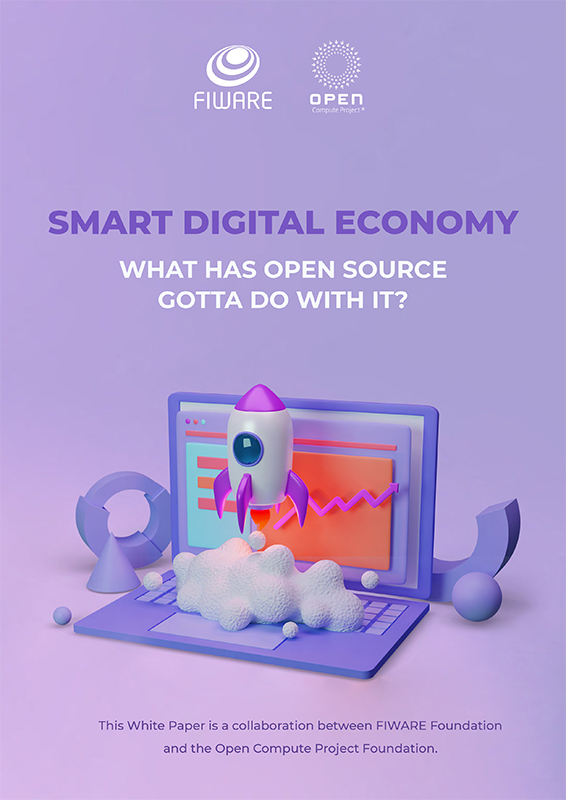 Open Source innovation is at the forefront of ensuring that software-based processes, operational models, decision-making, and end-user experiences happen in a sustainable and cost-effective manner.
Additionally, Open Source software promotes collaboration to solve climate change and resource scarcity challenges. For example, open standards allow for the integrating and controlling of a variety of energy and industrial products, enhancing energy efficiency and reducing emissions.
Without these standards, new code would have to be written each time a component needs to talk with another one. Open Source software provides a foundation that anyone can build atop, providing a platform for SMEs, large companies and entrepreneurs to integrate their technology products.
In the very collaborative spirit that the FIWARE Community members embrace and foster, this White Paper has been written with dozens of several members and partners of FIWARE and addresses how cities can mindfully advance their digital transformation via open source innovation, from a practical perspective.
It opens with a refreshing and honest foreword by Jonathan Reichental, Ph.D., best-selling Author, Professor, and Founder of Human Future, followed by an overview from Stefan Frenzel (Open Compute Project Foundation), several best practices from the FIWARE Community as well as quotes from industry leaders from the most diverse fields.
This White Paper features some examples of Open Source-based solutions and projects developed by Atos, bee smart city, Data Spaces Business Alliance, FIWOO, ICT Innovation Network – Slovenia, NEC Laboratories Europe, Red Hat, SmartCitiesWorld and the TOKEN Project.
Read on and find out how such solutions and projects are tackling the management of smart environments in a city.
Get your copy now and good reading!
Want to find out more? Download the full white paper.
Fill in the form with your personal data. We promise we won't spam you. We'll just send a newsletter every now and then.
Smart Digital Economy