MULTI-SITE FIWARE EVENT:
Connecting cities to the Internet of the Future
AGENDA
LIVE STREAMING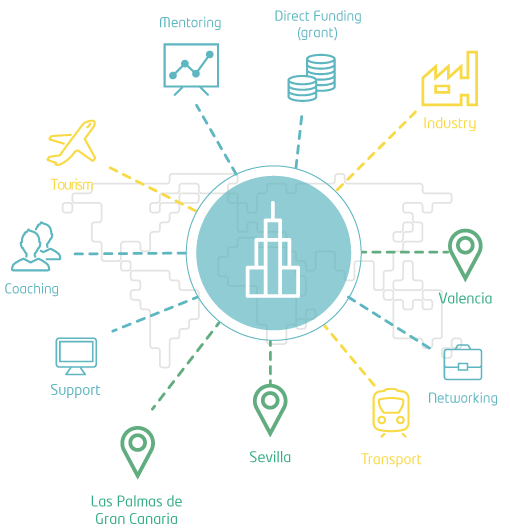 15th, 16th and 17th of October 2014
Seville – Valencia – Las Palmas de Gran Canaria
The Ministry of Industry, Energy and Tourism (MINETUR), following the guidelines of the European Commission, is fostering the implementation of the Internet of the Future. For that purpose, events have been prepared to show the potential of the platform FIWARE, which may be used for Smart Cities and industrial processes.
The 15th, 16th and 17th of October, a multi-site event organized by FIWARE will take place in the cities of Las Palmas de Gran Canaria, Seville and Valencia, thus following the event that took place last year in Santander.
This event will focus on the FIWARE Accelerator Programme, through which the European Commission destines 80 million euros to SMEs and entrepreneurs developing innovative services thanks to this platform. Start-up accelerators with a Spanish presence, entities which are in charge of distributing the funds, will be especially highlighted in these events.
During these days, participants will be informed about the necessary requirements to access current and future calls, will attend conferences and showcases to witness FIWARE's potential and will discover the different funding possibilities.
To enhance knowledge of FIWARE, participants can access a laboratory open to innovation (FIWARE Lab – lab.fiware.org), which is constantly updated with open data from Smart Cities.
Furthermore, each city will add specific training and entrepreneurial activities to the agenda:
Startup Weekend Valencia: during the weekend after the event (17th, 18th and 19th of October). It will gather entrepreneurs with different skills to work together to transform a technological idea into a startup. It also allows to network with specialized mentors and get their advice, and to win awards.

Final round of FIWARE challenges for developers (Seville and Las Palmas de Gran Canaria): from the 13th to the 17th of October. Seville will hold the "Smart Society" challenge, which aims to find the most beneficial apps for society, in terms of education, health care and social inclusion, so that a better society with better living conditions can be built. On the other hand, Las Palmas will hold the "FIWARE Excellence" challenge, for projects developed with FIWARE on any domain. These two events will distribute a total amount of 350,000 € in prizes and will hold about 40 teams from different countries.
OCTOBER 15
10:00
MULTI-SITE OPENING
José Manuel Soria – Ministry of Industry, Energy and Tourism
Víctor Calvo-Sotelo – Secretary of State for Telecommunications and Information Society
Rita Barberá – Mayor of Valencia
Juan Ignacio Zoido – Mayor of Seville
Juan José Cardona – Mayor of Las Palmas
Francisco J. Mora – Rector of the Universidad Politécnica de Valencia
José Regidor García – Rector of the Universidad de Las Palmas
José Millet - Delegate Manager of Employment and Entrepreneurship at the Universidad Politécnica de Valencia
Alberto Mendoza - Councillor of Traffic and Transport of the Valencia City Council.
10:30
LOCAL OPENINGS
11:00
PRESENTATION OF THE EVENT. ACCELERATOR PROGRAMME
Luis Ignacio Vicente - President of es.INTERNET
Jesús Cañadas (SETSI)
Antonio Saravia (Red.es)
11:30 - 12:00
COFFEE BREAK
12:00
ACCELERATOR PROJECTS (1) [MULTI-SITE]
Moderator: José Romero (AMETIC; es.INTERNET)
CREATI-FI – Sergi Fernández (I2CAT)
INCENSe – Javier Garrido (ENDESA)
FI-C3 – Fernando de Garcillán (ICT & Audiovisual Cluster of Madrid)
13:00
ACCELERATOR PROJECTS (2) [MULTI-SITE]
Moderator: Fernando Rico (CDTI)
SOUL-FI – Jorge Izquierdo (ADE. Junta de Castilla y León)
FRACTALS – Carmen Perea (ATOS)
FINODEX – Miguel García (ZABALA)
FABulous – Francisco Buján (CARSA)
14:15
FREE TIME FOR LUNCH
15:45
ACCELERATOR PROJECTS (3) [MULTI-SITE]
Moderator: Rubén Pérez (Manager of Economía Digital; Red.es)
FICHe – Myriam Martín (TICBioMed)
IMPACT – Sebastián Muller (ISDI)
SmartAgriFood – Sandra García (BIC Euronova)
FI-ADOPT – David Jiménez (Universidad Politécnica de Madrid)
17:00 – 18:15
FIWARE AVAILABILITY AT A NATIONAL LEVEL. FIWARE LAB [MULTI-SITE]
Moderator: Tomás de Miguel (RedIRIS Manager)
David Jiménez (University lecturer. FIWARE Expert)
Nuria Lama (es.INTERNET)
*Timetable: UTC + 02:00Please, remember that the Canary Islands are in a different time zone (UTC + 1) and therefore events in Las Palmas will take place an hour before than shown on the agenda.