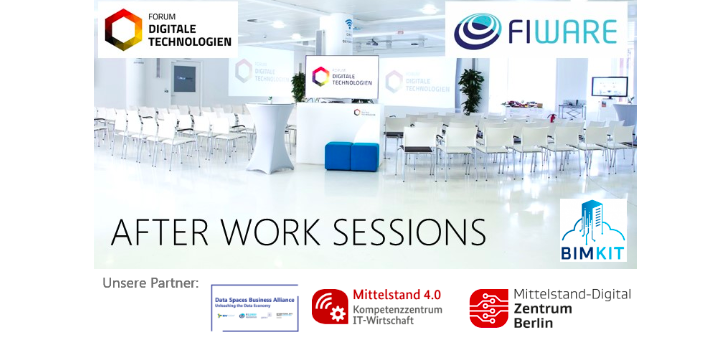 Second after work session with FDT and FIWARE: Digital Twins and Data Spaces
On 26 April, from 6 to 8 pm (CEST) FIWARE and the Forum Digital Technologies will host their second After-Work-Session in person here in Berlin. Step by – it's free of charge – and get to know everything about FIWARE technology in Digital Twins and Data Spaces.
The guest presentation will be held by Fraunhofer HHI presenting the BIMKIT and DigitalTWIN project. FIWARE's CMO Cristina Brandtstetter will introduce the Data Spaces Business Alliance to you. Afterward, we enjoy drinks and snacks together, finally being able to network in person again.
THE AGENDA (The event is in German language)
6:00 p.m. – 6:15 p.m. Registration
6:15 p.m. – 6:20 p.m. Welcome & opening by Forum Digital Technologies
6:20 p.m. – 6:35 p.m. Data Spaces and digital twins: The Data Spaces Business Alliance. Speaker: Cristina Brandtstetter, CMO FIWARE Foundation
6:35 – 6:50 p.m. Digital twins in the construction industry: presentation of the DigitalTwin and BIMKIT projects. Speaker: Peter Eisert, Head of Vision & Imaging Technologies, Fraunhofer HHI
6:50 p.m. – 7:10 p.m. Guided tour of the FDT showroom including Smart World by FIWARE
7:10 p.m. – 8:00 p.m. Get-together with Drinks & Snacks