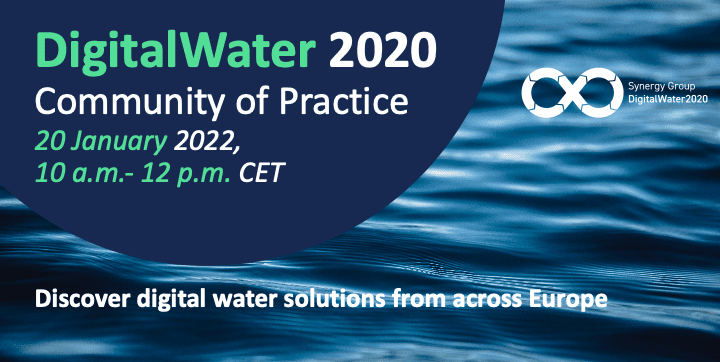 DigitalWater 2020 Community of Practices
On 20 January 2022, 10:00 AM – 12:00 PM (CET), the DigitalWater 2020 is hosting a first online event which is aimed at water utilities and end-users -such as cities- of the solutions developed within the DW2020 projects.
Several utilities and municipalities will present digital solutions related to water bodies, sewer networks, and wastewater treatment plants. They will discuss what digital solutions they have been testing, which benefits have been achieved locally, and which challenges they have been facing in the implementation.
Join this event to discover new ideas and best practices. The preliminary agenda for the first event includes 10 min presentations of the following solutions:
– New tools to monitor and simulate bathing water quality; tested in Berlin, Milan, and Paris in DWC
– The use of satellite data for oil spill detection in inland waters; tested in Thessaloniki in aqua3S
– Machine Learning inflow forecast for real-time control of WWTP; tested in Copenhagen in DWC
– Intelligent control for wastewater treatment; tested in Amsterdam in Fiware4Water
– New low-cost sensors for CSO monitoring in sewer networks, tested in Berlin and Sofia in DWC
– Turbinator: new turbidity and water level sensor; tested in Gothenburg in SCOREWater
– Tools for wastewater management; tested in Alicante in NAIADES
About DigitalWater2020: It is one synergy group bringing together five Horizon 2020 projects that are propelling research into digital water technologies: digital-water.city, aqua3s, Fiware4Water, NAIADES, and SCOREwater. The main goal of linking all these projects is to ensure synergies and complementarities in terms of development, research, communication, and outreach.