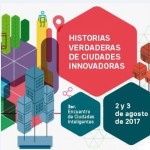 On August 2nd and 3rd, the Montevideo Smart Cities Meeting will take place in the Conference Center of the Montevideo Municipality, with the participation of international, regional, national and departmental authorities; entrepreneurs; representatives of universities and students; and citizens as well.
These Smart Cities meetings began in 2015, with a first one focused on listening to proposals on the topic of smart cities. The second edition was held in 2016 next to the 6th ITU Green Standards Week, so the event took on an international character. Montevideo hosted various experts on innovation, sustainable development and technology applications.
This year the conferences are coordinated and organised by the Department of Sustainable and Intelligent Development under the tagline "Innovation True Stories", in order to exchange experiences and knowledge, creating spaces for reflection, and inform the citizens about what a smart, sustainable and inclusive city consists of.
FIWARE will participate within this Smart Cities framework, with the talk "Environmental Observatory Project" on day one; and the "Big Data, Science of Data and New Bounds with Citizenry" panel with Miguel Barone, on day two.
However, this will not be only about Smart Cities, other topics linked to the application of technologies in management issues will be considered. Parallel to the conferences, exchange activities will be developed: workshop for kids (they would imagine the Montevideo of the future); a new instance of the Girls in Tech; a female Hackathon; and a Women's Desk, where they will work on smart technologies and cities, from an equity and gender perspective.
How to participate? The access is free. There is a registration form available here. If you have any suggestions, the organisation will be glad receiving them. Please write to evento.ci@imm.gub.uy!
Do not forget to download the agenda and check which panels will you be attending. Follow the conversation on Facebook and Twitter to stay informed and share your voice.